React Native Pomodoro App Template
Built with Expo, React Native & Tailwind CSS
🏗 Launching Q4 2022
Subscribe to be notified when it's ready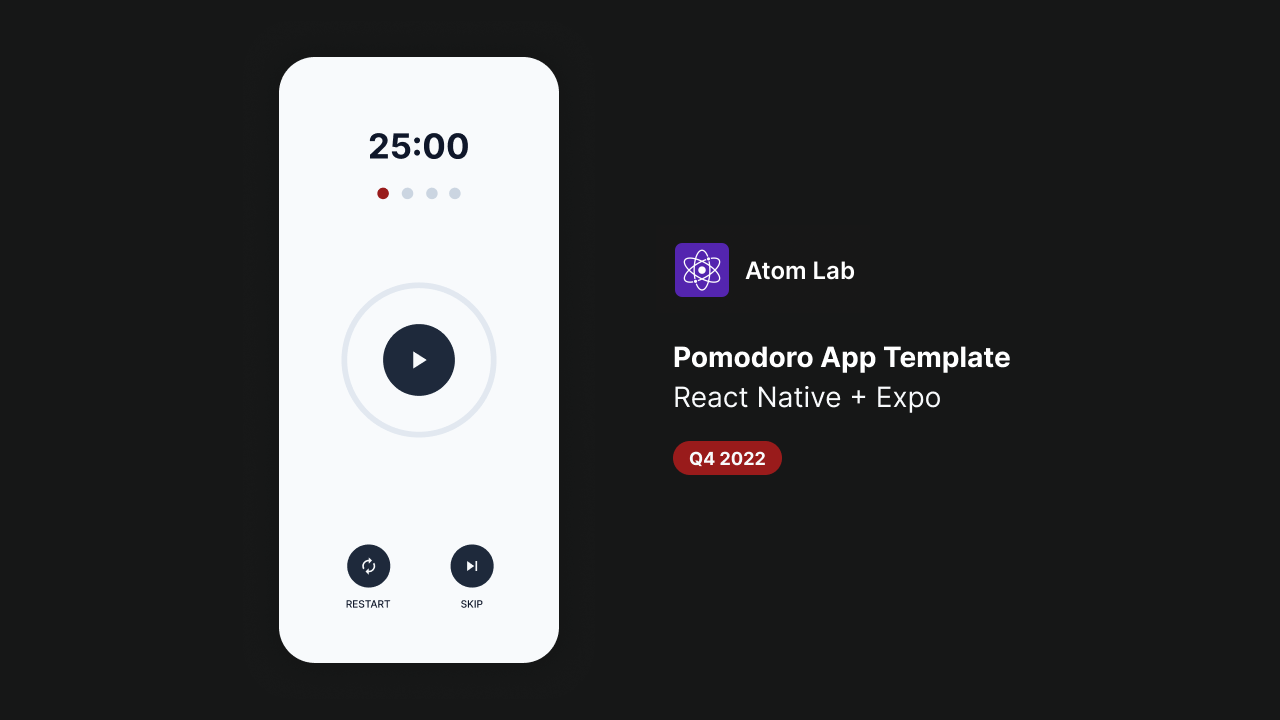 Introduction
The pomodoro technique has been used by many people to help them get over procrastination. The idea is simple - you set a timer to work for 25 minutes, and then take a 5 minute break before starting over again.
If you're building your own pomodoro app, start your project with a bang with this free React Native template - written with Expo, React Native and Typescript.
Features
Pomodoro timer
A simple timer screen designed with clear UX - allowing users to focus and find their flow state. Includes skip and restart functions.
iOS, Android and Web support
Works with iOS and Android - and even includes web support out of the box, all from the same codebase. No need to write and maintain three separate codebases!
Works in the background
Active timers are saved to the device storage - meaning the timer will still work even if the app is in the background or the user kills the app completely.
Notifications
Notifications are configured out of the box - users will be notified whenever a work session or a break is completed.
Beautiful design
The template is being designed from the ground up to provide a beautiful user experience that will delight your users.
Built with TailwindCSS
Built with the awesome Tailwind CSS framework for easy customisation and modification. No complicated stylesheets to wrestle with - just add the classes you need directly in your components.
Storybook integration
Storybook is configured and every component and screen is included. No guesswork and digging through endless code - simply open storybook and see everything you have available to build your app at a glance.
Typescript
Built with Typescript as standard for reassurance and well documented code.
Customisation Service
If you require any functionality not covered by the template - or you have more specific design or branding requirements - I provide a customisation service that uses the template as a base, saving you significant money over bespoke development services.
Simply send me an email at tom@atomlab.dev to arrange a no-obligation call and we'll discuss your requirements.